Born to the blues
---
Columbus mainstay Willie Pooch isn't hanging up his bass just yet
---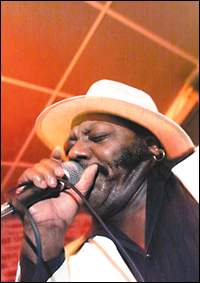 Alysia Peyton / Dispatch

Willie Pooch will help the Columbus Blues Alliance celebrate its 10th anniversary Saturday night.
By Curtis Schieber
For The Dispatch
Aug. 18, 1999
As a teen-ager living in Chicago, singer Willie Pooch discovered that the blues and gospel music have common roots.
The idea occurred to the Tupelo, Miss., native while listening to Windy City blues man Luther Allison.
"Sometimes he'd be playing a song," the lifelong gospel singer said, "and I would know some of the lyrics. I would sing along, but I had a habit of singing `God; oh, God' and `Jesus.'
"Luther told me, `Man, this is all you have to do: Just remember `baby' and `honey' instead of singing `Jesus.' You sing, `Oh, you know that Jesus . . .'; instead, you go, `Oh, you know my baby.'
"I continued singing the blues and I got the same feeling singing the blues that I did singing gospel."
At age 26, Pooch traveled to Columbus to rejoin keyboardist "Big" Dale Sales, a former band mate who had moved to central Ohio. Pooch remained after Sales returned to Chicago, becoming a key player in the Columbus area for nearly 40 years.
The Columbus Blues Alliance will present a lifetime-achievement award to the singer and bassist this weekend during its 10th-anniversary celebration.
In June, he was inducted into the Columbus Senior Musicians Hall of Fame.
Why Pooch has felt comfortable in central Ohio isn't difficult to understand.
His sweet, soulful voice recalls that of Bobby "Blue" Bland and reflects his gentle demeanor. Onstage and off, his relaxed pace suggests his Southern heritage.
Columbus "kind of reminded me of the country. The weekends, people just go out and enjoy themselves," he said. "In Chicago, every night is a party night; every day is a play day. You get kind of beat out after going out so many nights."
Who knows whether he would have survived in Chicago just by making music? In Columbus, he has relied on a day gig at Buckeye Steel for 27 years.
---
Willie Pooch & the Upsetters will perform during the 10th-anniversary Columbus Blues Alliance party at 5:30 p.m. Saturday in Murphy's Party Barn, at Sawmill and Powell roads in Powell. Earl Gaines will perform afterward. Admission is $25, or $20 for members. For more information, call 614-470-2222 or check the Internet (www.colsbluesalliance.org).
---
At the end of the month, Pooch will retire and become a full-time musician for the first time during his Columbus career.

He plans to tour -- in Europe, he hopes -- and record much more frequently, as he has released only one cassette and two compact discs.

The most recent, Five Nights on the Road With Willie Pooch, was recorded last year during shows at the House of Blues in Chicago, the Slippery Noodle in Indianapolis, the Soup Kitchen in Detroit, Wilbert's in Cleveland and the Blues Cafe in Pittsburgh.

With more time on his hands, Pooch intends to knock on doors at the Malaco label, home of Southern soul and blues; and the powerful, independent Alligator company in Chicago.

The singer has a history with Alligator, which during the early 1980s expressed interest in a group he helped lead with Columbus guitarist Dave Workman.

The Workman-Pooch blues band, probably his most famous group, owed its success not only to the partners' chemistry and the guitarist's incendiary playing but also to its longevity: It lasted nearly a dozen years, ending in 1981. (During the mid-'80s, Workman moved to San Francisco.)

A group called the Demarcos, one of several outfits with which Pooch worked after the demise of the Workman-Pooch band, was his favorite, he said. The ensemble -- which featured two hot guitarists, John Boerstler and David Friedlander; and four singers -- was the most versatile.

The many turns in his career have added to the ups and downs in his life -- from which Pooch derives musical inspiration.

To get inside the roles he inhabits, he looks at a "small part of the bad luck," he acknowledged. "Then I look at the good luck. You feel good about the good things that happen. My thing is I can be sweating and singing and enjoying myself, and crying at the same time."

Which explains why -- despite the waxing and waning popularity of the blues, especially with young people -- Pooch thinks the music will survive.

"I think it'll always be there," he mused. "We're always going to have them problems and troubles."